We are offering a Trade Price list for anyone who is thinking; I could sell Cajon drums on eBay, or maybe you're a band and want to sell signature drums at your gigs, or a shop that would like to sell a few of our Lion Cajon Drums.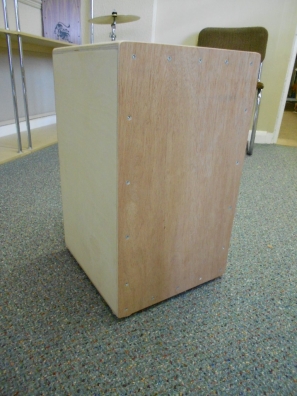 What can we do for you!
We are prepared to build a cajon drum for you, which will consist of a cajon 48cm high x 30cm wide x 30cm deep, with a fixed 20 strand snare drum strainer, and all you have to do is finish the drum in the colour you want, with your brand logo or band logo etc.
All we ask is you buy 5 drums minimum at a fantastic trade price of £35 per drum. That's an outlay of £175. If you sell them for £70 each, you will make £350 gross, less your £175, which leaves you with £175 profit. That's 100% profit, with us doing the hard work.
You can sell your drums at any price you see fit, above is just a guide price.
We can also finish the drums for you for £55 per drum, so it makes sense for you to finish it yourself and make more money.
All you need to do is contact us on 01726-813961 or email; garyclarke@cajondrums.co.uk for the password into the trade purchase page, and start your own business today.
Conditions
You will receive packaging that your purchase arrives to you in, so you need to open that carefully and check each drum when it arrives. Then, after you have painted it, reseal the box and send it on to your customer.
If there are any issues with your customer you are responsible for them, not us.
If the drum fails in anyway, then you need to send it back to us at your own expense. We will send another to you right away so you can send that on to your customer ASAP.
You will need to be responsible for the finishing of the drum, so don't send it back to us if its damaged after you have painted it, such as chips in the paint work.
We will deal only with you, not your customer.
We will not give any monetary recompense for art work that you have done if the drum fails after you have painted it.
Any issues with the drum must be dealt with by you, not your customer.
Trade shipping for all 5 drums is £30 don't forget to add this to your cart.
We will get your drums to you ASAP depending on how many you buy.
Please leave at least 7 working days for delivery.
If it is a large order please contact first to avoid disappointment.